CJ is one of the most prominent affiliate marketing companies available to anyone wanting to monetize their website. It's free to join, and it offers a wide variety of opportunities for publishers like you to promote products related to your niche.

It offers services to companies looking for appropriate websites to advertise on, and it offers services to publishers looking for products or services to promote on their websites.As the owner of a niche website, you publish important information that your reader has been looking for.
Many times that information is about a specific item related to your niche, for example a certain type of tool used in woodworking, or a certain kind of pan used in cooking.
CJ provides you with the ability to connect with those advertisers that sell the products used in your niche, you simply have to become a CJ member, then you apply to the advertisers that you feel will fit your niche.
Keep in mind that you may be turned down by some advertisers, that is their prerogative, so the best thing to do is to apply to several advertisers to increase your chances of being selected.
The process of joining CJ starts by visiting the website at www.cj.com, and then click on the green button labeled Free Publisher Sign-up.

This will take you to another page where you can read more about what CJ has to offer you as a publisher and also another green button that you can click on for Popular Support Topics.
This button


will direct you to the Sign-Up form where you provide your personal information to start the application process.The form looks like this.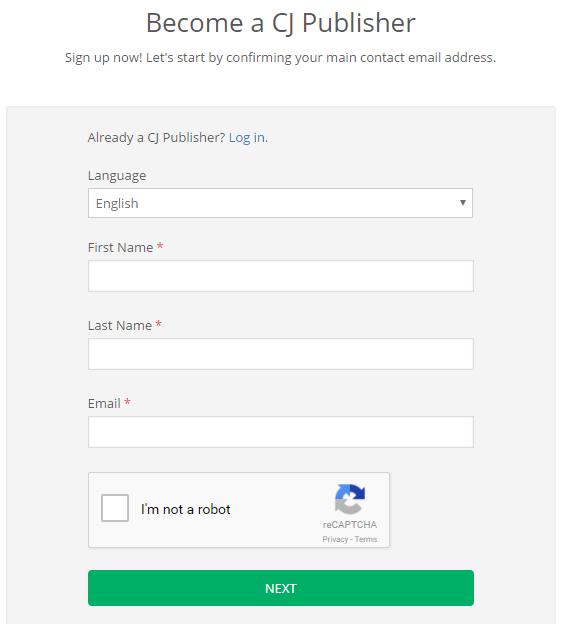 After you fill out the first form you just follow the prompts to the next ones to finish the application process, and then you have to wait a few days to get a response from CJ. Obviously you want to have your website up and running with a good amount of quality content so that you have a better chance of being accepted, so if you don't have a website built yet, definitely get started on it as soon as you can.Visit this page to read about how to build a website.
Once you are accepted by CJ you have access to your dashboard, which looks like this,

and from here you can navigate to your account and to the Advertiser section where you apply to the advertisers that are appropriate to your niche.
Link tools are also available in the form of a Deep Link Generator and Page-Based link tools, with detailed explanations of their uses.You also have an E-mail account within CJ.
You really can't go wrong with CJ, and considering the fact that it's free to join as a publisher, they really provide an outstanding service for any niche website owner.
I hope this information has been helpful and informative, and I welcome any questions or comments, or if you have any relevant information about your experience with CJ, please feel free to share it with me.
---